You don't necessarily need to get to the point where you realize you need more storage options, to start reorganizing the space in your home.  Actually, why would you wait that long? Then you are stuck with stuff you need to store (and no place to put it).  
This can be an interesting way to look at your kitchen. As a matter of fact, there are probably several storage ideas that would work beautifully in your KSI Cabinetry kitchen and you just never really thought about it before.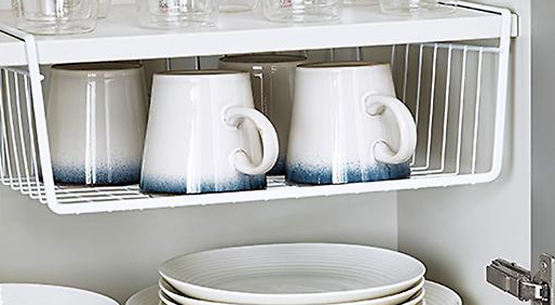 Here are some places to look:
The UTENSIL DRAWER
Every kitchen has a utensil drawer. This is the one drawer that has all the random kitchen utensils in it. It is usually a huge mess and very disorganized, filled with can openers, ladles, whisks, and wooden spoons.  
If you a have a utensil holder near the stove, then you have already addressed this problem in one way. Here is another: consider combining the utensil holder with the utensil drawer (like the draw on top of a vertical pullout cabinet) so they can organized more according to use frequency.
The APPLIANCE GARAGE
Yes; a place to park your appliances.  We are talking about the counter top appliances—the toaster, can opener, etc.  If you are not the type of person who stores their appliances when not using, then you probably have a few cluttered around the kitchen. It's not your fault; most kitchens are kind of built that way.  But if you want it to be more organized, find a corner or other spot on the counter where they can all live.  A swiveled door can cover the area so they are truly out of sight.
The CORNER DRAWER
Most kitchens have at least one awkward corner where to counter tops and cabinets meet to form that very deep (and greatly inefficient) corner spot.  Well, if you want to make better use of that space you can remove that section of cabinet and install a corner drawer. This will slide into the corner, beneath the counter, but will make it easier to get to pots, pans, lids, dry goods, or whatever else you would be storing there.